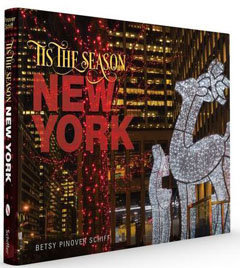 2018, Schiffer Publishing, Ltd.
Available at Amazon.com, Shakespeare & Co, The New York Botanical Garden and bookstores everywhere. Quantity discounts available through publisher:
Customercare@schifferbooks.com
or 610-593-1777.


To view photos from this book click HERE

To view a review of the book click HERE

'Tis the Season New York offers a joyful and romantic journey throughout the city during the dazzling wintertime holiday season. One hundred seventy-three photographs show both the familiar and the unexpected ways the holiday is celebrated by residents and millions of visitors. Images range from the famed Rockefeller Center tree to beautifully decorated townhouses, private clubs, and city parks; a puppet procession at the Winter's Eve Festival and a New York Harbor tour-boat with live jazz and holiday garlands. The book is a beautiful holiday keepsake of the Big Apple.

The foreword is written by James Barron, The New York Times reporter and metro columnist. 'Tis the Season also includes a selection of personal quotes from 15 notable New Yorkers about Christmastime in New York.
*
"Betsy Pinover Schiff is a gifted photographer with a keen eye. Through her photos, it is clear that she is in love with New York—all its perfections and imperfections, all its hidden beauties. Her new book, Tis the Season, fills us with the color and joy of the holidays in the city."
—Vartan Gregorian, President,
The Carnegie Corporation of New York