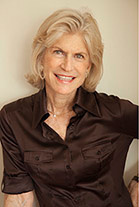 Betsy Pinover Schiff
is a noted photographer of landscape architecture, gardens and travel destinations. Her images have been described by The New York Times as "an ambrosial paean to public and private spaces." Having an extensive background in the arts, she brings to her work a strong sense of color and graphics which are the signature elements of her style. Prior to becoming a photographer, she spent 15 years managing communications and photography for The New York Public Library, Sotheby's, and The New York Botanical Garden.
Publications:
Betsy is best known as the principal photographer of 6 garden books, including 4 about
NYC
gardens:
The Sidewalk Gardens of New York
, (Monacelli Press, 2016),
Windows on Central Park: the Landscape Revealed
(Schiffer Publishing Ltd.,2011),
New York City Gardens
(Hirmer Verlag, 2010), and
Gardens in the City: New York in Bloom
, (Harry Abrams, 1999), which was the first book published on
NYC
Gardens. These have been critiqued in major publications and on television. Her photographs have appeared in numerous other books, magazines and calendars.
Clients:
Betsy's clients are noted landscape architects, garden designers, universities, and botanical gardens who have used her images for their public relations and marketing purposes. She brings to each assignment the unusual expertise of a public relations professional.
Exhibitions:
Betsy's work has been featured in 3 exhibitions in Mexico, including 2 in museums, as well as exhibits in the New York metropolitan area. Her work is in more than 75 corporate and private collections here and abroad.
Education:
Betsy studied photography at the International Center of Photography and the School of Visual Arts in New York, and took master workshops with photographers Jay Maisel and Sam Abell, who had a strong influence on her work. She also has a Bachelor of Arts and a Masters Degree.
Affiliations:
Betsy Pinover Schiff is a trustee of the American Federation of Arts, as well as a member of many museums and garden-related organizations. She is on the Advocacy Council of Citizens Committee for Children. She is a member of ArtTable, the American Society of Media Photographers (ASMP), and Professional Women Photographers (PWP).
To view the photographer in a TV interview click
here